Pierre Zakrzewski's funeral takes place in Dublin
March 29, 2022
Irish cameraman Pierre Zakrzewski, killed while covering the war in Ukraine, has spent his life discovering the world through travel, a passion that will eventually lead him to a celebrated career in journalism, his mass of funeral.
Zakrzewski (55) was killed just outside Kyiv on March 14 alongside his colleague Oleksandra Kuvshynova when the car they were traveling in was hit by incoming fire.
His funeral remembered a man loved by his family and colleagues, who had led a life shaped by adventure.
In one of three eulogies, Zakrzewski's brother, Stas, told the congregation how Pierre's French godfather, Jean-Pierre, had been a particularly important influence, regaling him with travel stories that inspired to dream of adventures in faraway places.
Michelle Ross-Stanton, wife of the late Pierre Zakrzewski, speaks to Foreign Secretary Simon Coveney at her husband's funeral. Photography: Tom Honan for The Irish Times
"And 42 years later," he said, quoting his late brother, "for most of the year, I find myself all over the world. Whether it's for work or just a trek, I am still as amazed by the world and the adventure as when I started.
Stas described how, fleeing the constraints of traditional education, Pierre had learned about life during those years.
"That's where his interest in photography and politics started to merge with freelance journalism," he said. "He taught us to think outside the box and that nothing is impossible."
The life of Zakrzewski, who is survived by his wife Michelle and extended family, was celebrated in a ceremony at the Church of Our Lady of Perpetual Help in Foxrock, south Dublin. Foreign Secretary Simon Coveney attended, while President Michael D Higgins and Taoiseach Micheál Martin were officially represented by aides-de-camp, Commanders Deirdre Newell and Claire Mortimer respectively.
Pierre Zakrzewski's coffin is carried to Our Lady of Perpetual Help Church, Foxrock. Zakrzewski's brother Greg is pictured at left. Photography: Tom Honan
Ukrainian Ambassador to Ireland Larysa Gerasko and US Ambassador to Ireland Claire Cronin were also present, as was Labor Party leader Ivana Bacik.
A large Garda presence led traffic outside as participants entered the church. Zakrzewski's modest, unvarnished coffin was transported with the accompaniment of Iníon Choncúr Bán, played on uilleann flute by Mark Redmond.
Ukrainian pins were worn on the mantles of mourners, and on the altar was a row of handmade sunflowers, the national flower of the beleaguered country in which Zakrzewski died covering the conflict.
Small Irish and Ukrainian flags were tied to the handles of his coffin and the tearful nieces and nephews who followed him held more homemade sunflowers tied to straws. Some of them then paid their respects at the altar – a toy motorcycle; Zakrzewski's first and second favorite foods, dry sausage and Tayto chips; a book about the Rolling Stones; and a camera.
"Motivated by his desire to sincerely meet genuine, egoless people, to truly present their stories and their uniqueness to the world, he distinguished himself as a storyteller," Father Kieran Dunne said in his homily.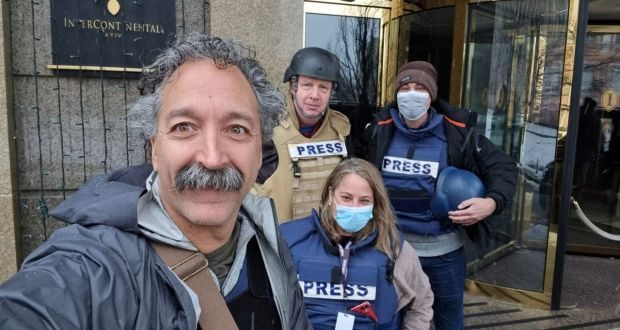 Pierre Zakrzewski with colleagues in kyiv. Photograph: Fox News via The New York Times
He was "a proud Irishman, unafraid of his roots and down to earth, able to cross languages, cultures, traditions and identities and see them not as barriers but as oceans of possibilities for human encounter, sharing and growth".
St. Patrick's Cathedral High School Choir sang Amazing Grace.
In his eulogy, his friend and Fox News colleague Tim Santhouse recalled how Zakrzewski spent many months after the US withdrawal from Afghanistan helping those trapped inside to escape. His childhood friend, Ronan Hingerty, said Zakrzewski would not be measured by awards or honors, but by how he made people feel.
Moments before his casket was led to the hymn How Great Thou Art, Father Dunne offered a final thought on the nature of Mr Zakrzewski's life's work.
"Telling the truth is a labor of love," he said. "Love always has a price. And what a terrible price.