Electric motorcycle brand Voxan tests the new Wattman
November 23, 2021
Electric motorcycle brand Voxan, owned by high-performance electric vehicle specialist Venturi, presents the new Wattman. With world champion Max Biaggi at the helm, the brand sets out to conquer even more speed world records.
Click here to read more
The Voxan Wattman was initially supposed to make its attempts on a Bolivian saline in July 2020, but the pandemic made travel impossible, and it was therefore on the track at Châteauroux airfield in France that the team broke 11 records of the speed world a year ago. .
Asphalt has turned out to be an interesting surface, so the Wattman – modified accordingly – will continue its program on another strip. This time, the site will be the Space Florida launch and landing facility at the Kennedy Space Center in Florida, where, starting Monday, November 15, the first ultra-high-speed tests will begin.
The Wattman now weighs less than 300 kilos, which allows it to compete in this category. The difference in weight is mainly due to a new Voxan-Saft battery design, both mechanical and electrical. Saft, the French subsidiary of TotalEnergies, is particularly specialized in high performance, very high power batteries. The pocket cells used make it possible to increase the power of the batteries by nearly 80 times, compared to around 10 times for standard products on the market. They are assembled in modules, allowing cooling to be managed with a recently patented process, resulting in an ultra-compact construction.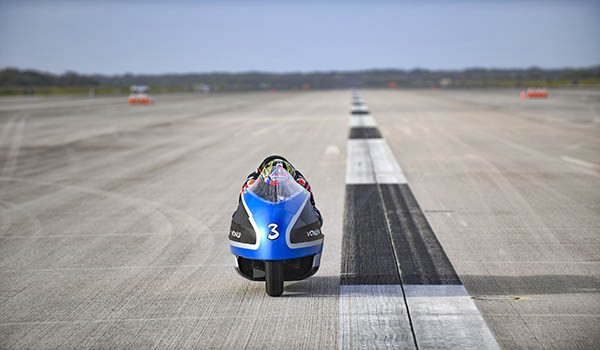 The bike continues to rely on the Mercedes EQ Formula E powertrain, which delivers 320 kilowatts of power (compared to 270 kilowatts for the previous version) and offers 1360 Newton meters of torque.
Other notable differences from the previous Wattman include the dimensions of the motorcycle: to improve stability and air penetration, the wheelbase has been increased to 1,957 millimeters (from 1,800 millimeters previously) and the height of the saddle is now 685 millimeters (instead of 610 millimeters). In the event of a strong crosswind, the team will now have the option of adding a fairing that reduces wind resistance.
As for tires, Michelin, a long-time partner, has worked on designs specifically adapted to this challenge. The 120 / 70-17 front is a tire from the MICHELIN Power GP range, which has been modified to tolerate extremely high speeds. For the rear 190 / 55-17, Michelin has relied on technology which has been proven in MotoGP to develop a tire with better grip. The challenge was to channel all of the extraordinary torque provided by Wattman's electric motor, allowing the bike to accelerate as quickly as possible without skidding.